SUSAN TINGAY
Visual Artist
Landscapes :: Wildlife :: Portraiture
I have always loved being out in the environment drawing and painting. As a child living in suburban Adelaide, family weekends in the hills and camping trips along the coast and in the outback allowed me to indulge the freedom of exploring the natural world. At High School and University I took an academic path in science and humanities, deepening my knowledge and understanding of nature but almost losing touch with creative expression.
My postgraduate studies in Western Australia focused on wildlife behaviour and ecology with a primary focus on the function of bird song. At the same time I became actively involved in forest conservation and environmental issues generally and started to paint watercolours of plants and animals.
Painstakingly meticulous observation and realistic rendering suited my scientific training and it gave me great satisfaction to portray the diversity, detail and beauty of the wildlife I encountered in my bush forays. My art became part of the work that I did for conservation.
An increasingly busy career in environmental consulting meant less time for the immensely time consuming wildlife illustration but on field work I could find time for quick bold expressions of landscape using the versatile medium of dry pastels. I loved the way an image emerged from a web of colour strokes and each painting was a direct response to my experience of a place in real time.
When I had the time, I experimented with other media and attended short art courses, maintaining a steady but low artistic output.
Once I retired from full-time work, I launched myself into oil painting with gusto. For several years I was fascinated by the genre of still life painting in oils and the abstract and technical challenges it offered.
My work inevitably returned to its enduring source of inspiration in the natural world. I am most fortunate to live in two beautiful places – in the forested hills near Perth in Western Australia and on the coast of southern Eyre Peninsula near Coffin Bay in South Australia. Both of these places continue to provide the lifeblood of my inspiration. I sincerely hope that my work conveys not only the beauty of the natural world and all of its wonders but also the increasingly urgent responsibility that we have to protect and preserve it.
Susan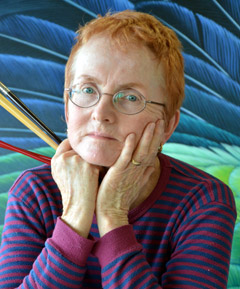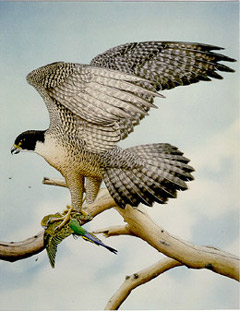 "Peregrine Falcon" Ink & watercolour
on paper